Hanes  and Champion make some of the best garments to own and wear, and make some of the best garments with which you can make money. There are good margins in selling Champion products, Beefy T's, and the Perfect line. Nobody ever, I mean EVER complains that they were sold a Champion hoodie. A Champion sweatshirt can last literally for generations, and have the best value of what I like to call "price per time worn" of any garment in the history of the industry. The Beefy T is that same thing in a t-shirt form, the last and softest shirt left in your shirt drawer. Hanes shirts have consistent quality, consistent dye lots, rugged construction, and their shirts have either very nice neck labels (black label) or are tagless. Customers either want a fashion label or no label at all.  Champion wicking shirts actually wick moisture not just make that claim. If you want a ringspun cotton shirt that is fitted but actually fits real people and if you want a ringspun shirt that is thin, but not see-through, that is the Hanes Perfect line. The Perfect shirts also print great, and that's on DTG printers or when screenprinting.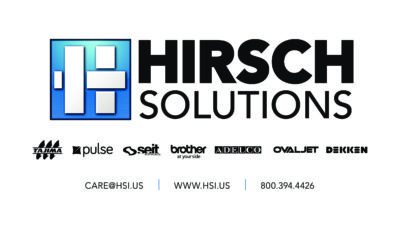 Hirsch Solutions, Inc. represents the most solid equipment in the industry and what we use to do impressive work and what we use to make money day after day and year after year.
Brother- If you are working with smaller quantities of shirts the Brother DTG does a great job. They are solid machines and very affordable to purchase, great for on demand printing and you can even use them to create your own DTF transfers.
Seit – Incredible laser systems, either in a bridge form for large embroidery machines, or a unit that is very affordable on a single head embroidery machine.
Tajima – We have run Tajima embroidery machines for 15 years. They run all day every day and out produce all other machines. Whether sewing hats or flats they run and run and run. They were always solid, but the new machines are even more accurate and more consistent and it makes them even faster at getting work done even when they run at the same "speed." These are the most solid workhorses of the embroidery industry. We have a new eight head that absolutely flies through any work we put on it, with incredibly low labor costs with the auto trimming.  Our new machine has the easiest foot adjustment, and suddenly puff embroidery is a profit center not a bottleneck. Big machines from them are great, and they sell a ton of single heads now as well, and have some amazing automation possibilities for personalization and work flow.
Pulse – Great digitizing software which is easy to learn and powerful enough to do anything you want to do. If you have a small shop consider doing some of your own digitizing using Pulse. Newest versions integrate with Corel Draw or Illustrator.
KIWO INC.   KIWO is the ultimate "vendor as partner" for my company Mirror Image. When we were pioneering our version of simulated process separations and printing, they were there every step of the way working with us and they continue to this day as a trusted partner. They are ALWAYS responsive, ALWAYS stand behind their products, and they ALWAYS have accurate technical information. I have had every emulsion company try side by side trials at our shop with the KIWO emulsions, and the KIWO emulsions have proven over and over that they are the best in the industry, with great bridging, great resolution, and a wide latitude of exposure time.  They were one of the first companies to offer Direct-to-Screen and they have one of the most versatile (PC, MAC, and UNIX) and fastest systems.
  Saati is a solid company selling solid products. We use exclusively Saati mesh, Saati reclaim chemicals, and Saati "Thik" cap film for high density work.  The mesh is not only good but absolutely consistently good. There are too many variables out of our control in screenprinting, you need to control the ones you can, and consistent mesh is one you need to count on. After all, what we do is called "SCREEN printing" so you need good screens. Saati keeps coming up with greener and greener screen room chemicals, they don't bullsh** me about how green they are, they are not expensive, and they actually work, in fact highly effectively work. The reason I have worked with Saati for over twenty years is that they are innovative and they are a real partner, they stand by their products and they give you accurate information. If you want to be a serious screenprinter, you have to consider working with Saati.
SPSI I went to an open house at SPSI about fifteen years ago and have been doing business with them ever since. They are a good company selling good products and equipment, and then what puts them above other distributors is that they stand behind what they sell. A thousand miles away from them I still end up with a better deal and better service buying a heat press from them than buying from my local vendors. They also have a great EPSON film system which works better than systems costing three or four times as much. We have done all our Mirror Image museum prints with films with halftones output on our SPSI system. They now distribute MHM presses, the press that sets up the fastest and that prints and prints and prints in register.
MHM – these are the best auto textile presses. The platens are ALWAYS level, screens level, and press level. With everything level you can print with less ink, softer prints, and consistent prints shirt after shirt. The registration is ridiculously easy, a pre-registration system that has no extra moving parts and is very accurate.  They register fast and they stay registered, and registration time is almost always the biggest production factor in any shop. Most presses have unlocked screens and then you lock them and they move, and infuriatingly time is wasted. MHM presses basically have locked and super locked and you don't have to do that annoying unlock/lock dance when you try to register them. MHM presses are beyond sturdy, we had one MHM press that ran every single day for the over 20 years we had it, without a single day it didn't work. Besides the killer registration times, you can change platens from adult to youth on a 16 color press in literally less than five minutes, boom! ready to go.
Stretch Devices (Newman Roller Frames)  We have used Newman Roller frames (by Stretch Devices) for a long time in my shop. You have to have good screen tension to do good printing and also in order to do fast printing. Every one of our award winning prints was printed on Newman Roller Frames. We are able to keep every one of our screens in the shop at not only a good tension, but a consistent tension. Printing with a flat level screen with properly aligned properly tensioned mesh is essential, and a Newman Roller frame is a good way to do that every time.
 Econscious Apparel In organic garments Econscious is the real deal. We exclusively use their organic sweatshirts, polos, tote bags and hats which not only have all the proper organic certification, but are all nicely manufactured. The trucker hats are my favorite hat and my customers love them. The folks who work there are some of the most knowledgeable people in the "green" business world. Too many ecological businesses are not good businesses. With econscious you get accurate inventory and delivery information and product information and good products as well as their products being ecological.
SanMar If you are in the business of decorated apparel, you know the name SanMar.  With perhaps the widest range of products from a single source and the inventory to back it up, SanMar is unparalelled.  Not to mention their many private label brands ranging from basics to safety-wear to fashion forward (have you seen the District® line lately?).  As a contract decorator we rely heavily on the accuracy and dependability of our customer's blanks suppliers and Sanmar is second-to-none. They were the first garment distributor to actually take decoration of their garments seriously and for over fifteen years they have had a team of decoration specialists on their staff.
 Graphic Screen Fashion
GSF makes precision quality aluminum frames.  GSF has a wide selection of standard sizes and profiles available and their stretching process delivers perfect, consistent tension that holds over time. If you want to use rigid frames, GSF is your company, both to buy them initially and to restretch them.
Jakprints Jakprints is your place to get your offset printing done for stickers, sell sheets, and posters. Their DTG (direct to garment) printing is the best I have seen.  For all their products they offer good pricing and good ecological practices, and above all, a rad on-line interface for getting the work done right with the minimum hassle. You definitely want to check out their innovative take on a business card called a Favicard, I get constant positive comments when I give mine out. They have a related business that is an on-line store solution called monopile which is also incredible.
     Los Angeles Apparel
Dov Charney and his team have created a new line that is  truly Made-in-USA and truly non-sweatshop and truly fashionable. Dov pioneered the fashionable cuts and soft ringspun fabrics we see across the industry now. Los Angeles Apparel has a line that includes that with the addition of some more forward garment washed and heavier fabrics.
 Douthitt
Our screen department runs on Douthitt equipment.  From CTS to exposure to washout to rolling racks, Douthitt equipment is built to work and built to last (they are from Detroit after all).  The tech support is  beyond anyone's  best expectations.  There is a good chance that Mark Diehl can solve the world's problems from his cell phone.
 PriceIt Software
Price-it is easy to use shop software. It is totally affordable to manage your screenprinting or embroidery shop. Great support and they add useful features all the time. What we like about it is that it is simple, mostly things you use are right there on the screen in plain view, not requiring specialized knowledge or to dig down multiple screens. We started using it more then ten years ago after test driving multiple solutions. It turned out to be both the least expensive AND the system we liked best. It integrates well with Quickbooks. You can contact them for a version to test drive for free. The newest version that lives on the cloud is a great advance.The shops I have turned on to it have all liked it as well.
Impressions
If you want to keep up with the industry you need to receive Impressions magazine monthly (paper or online, your choice) and the weekly email newsletters.  There are not a lot of education opportunities for decorating or garments and you need to keep up by reading whatever you can get your hands on. Impressions is particularly strong on the garment end of things. You need to attend their Long Beach ISS show which is the one show that has it all for our industry. They continue to improve the shows and have some interesting new ways for folks to get educated on the floor show (Shop Talk) and to hang out with your peers in the industry.

F & M Expressions vintage transfer line should be considered revolutionary. We went around to industry folks we know and showed them a shirt that had just had an F & M vintage transfer applied (in less than 30 seconds.) Over 90% of folks we showed it to thought it was a direct screen print. If you want to start a small screen print business,  don't buy a press, inks, set up a dark room, learn to print, and on and on., instead  get an account with F & M Expressions, a transfer press and spend your time getting customers not printing. They are affordable and for most uses have the look and quality of direct prints.
Maybe it has something to do with having the only woman CEO (Gina Watson) in the industry but LAT Apparel has pioneered true sizing on women's garments with four lines that actually line up with the variety of women's body types out there in the real world. They also have been a more viable option in a greater variety of programs since they added unisex shirts to their already big women's lines. They also have some very cool baseball and football inspired fashions as well as the most complete infant and kids line (Rabbit Skins.) Their new onesies take child safety to a new level.