IK recently interviewed Colette Wilhelm, owner of Contract Impressions in Cape Coral, Florida.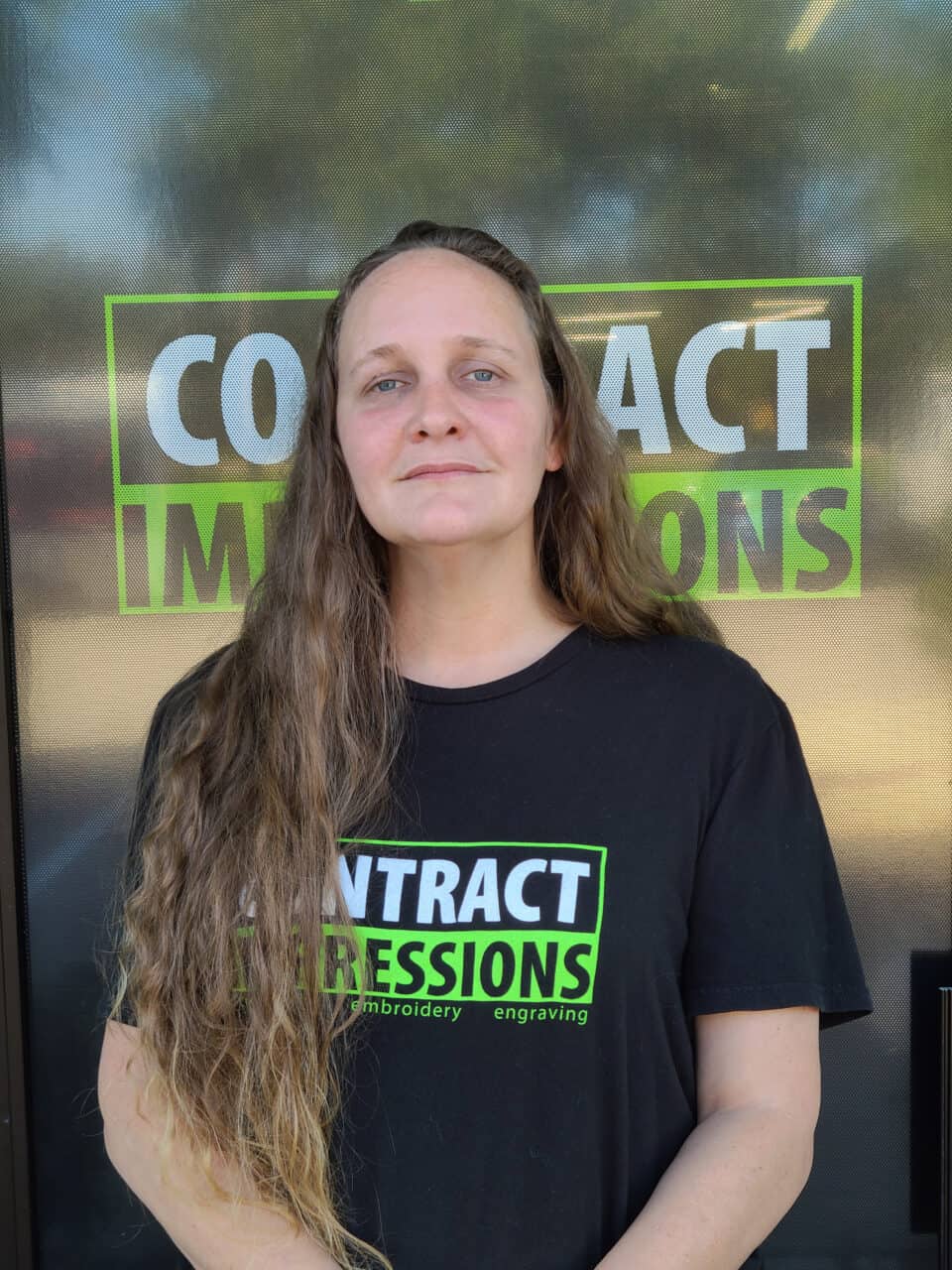 What is your current job title and what do you primarily do as your work?
Owner – quotes, artwork and client interactions.
What is your history in the industry?
In 2014 I adopted a baby girl. I bought a vinyl printer and became a "stay at home mom" making shirts for my husband's MC. I didn't like the quality of HTV shirts so I taught myself screen printing.
In your time in the industry what have you seen as the biggest change?
I am seeing that prices are being driven down while competition is ever increasing. New startups have always been an issue with the belief that they have no overhead but now there are more start ups than ever before as people with non-essential jobs are staying home with no income. The low barriers to entry in the industry means that many people will enter the industry now only for their businesses to fail within 3 years, but in that time that negatively impacts the industry as a whole.
What is one thing you wish you knew when you were starting out in this industry?
Actual costs. I started in the industry with a desire for quality printing. Over time I have seen that the low barrier to entry costs do not compare to actually growing the shop. A cheap 6/4 press can be bought for $6k but in order to group into an auto it's $50k. There is a  huge gap between the barrier to entry and the barrier to success. For me, I would have bought the auto to start with.
Do you have a song or better yet a Spotify or other playlist that you listen to when you really want to get going?
No music in our shop. In order to play music loud enough for staff to hear it's so loud we can't hear each other. It has to be played that loudly to be heard over the embroidery machines.
Share a story of a mistake you made that in the end you learned from.
When I started out I thought I would always be selling to wholesale customers. I spent hundred of thousands of dollars marketing and couldn't seem to grow. It turns out that my niche is to print for other printers. We have the skill and capability that most new printers don't have. Plus, with the equipment we have purchased we are able to fulfill large orders that start up shops can't.
Is there a print or a shirt or a product that you are particularly proud of?
Right now, the service we provide that I am most proud of is our embroidery service. That department is growing like crazy and I am super proud that we get compliments on our embroidery every day.
Do you have a hobby or skill or interest or accomplishment that folks in the industry might not know about?
I do all types of things that people in the industry don't have a clue about. I paint, decorate, crochet, sculpt with clay. I'm personally very motivated by art.
What is a big breakthrough that you or your company has made?
Becoming a contract only shop. This was huge for us. It allows us to focus on our specialty, putting out quality printing and embroidery, while not doing what we aren't good at. No one in my shop is very good at selling.
What part of this industry do you wish you didn't have to deal with?
I got rid of the primary thing I don't want to deal with- sales! The only other one is new printers who don't have enough experience to make a proper PO or to create print ready art.
What's the weirdest thing that happened to you in this industry?
I flew to New York from my home in Florida and while waiting for my ride from the airport a girl was wearing a shirt that I printed the year before.
What is your favorite decoration technique on one of your garments?
My favorite print technique at this time is multi-decoration. We use the engraver to cut felt for applique, screen print a design on a shirt, applique a portion and embroidery as a top layer.
If money was no object, what would you add to your business right now?
Another 6 heads of embroidery and a 12/14 M&R auto.
What is your favorite t-shirt, however you want to define that?
DT6000. I wear that shirt blank most days. It's soft and comfortable without being too costly.
Do you have a project you want to start or goal in the industry?
Eventually  I want to start a nationwide printing business. This would be a group of high level sales professionals funneling orders to a minimum of 6 printers that would all follow the same process and procedures. A sort of co-op where each printer is a contract printer with pre-determined costs. Ideally this co-op would handle large contracts for concerts etc with on-the-ground printing options.
Can you speak to having a mentor or hero or someone you admire either inside or outside the industry?
I don't know that I have a mentor. I do respect a lot of other printers and take their advice as often as I can apply it to my business model. Marshall Atkinson is a great guy with amazing knowledge. Bill Hood has called me out of the blue and given advice that helped me grow. Mark Coudray is a font of very useful information. Pete Junior of New Era I respect and admire. Jason LaBlue is a great guy with lots of hands on experience and advice.
What have you found inspirational lately?
Lately I am finding inspiration in my own life. My children are literally why I get up every day. Two of my older children work for me. This will be theirs someday and I will make it a success long befor I hand it over.
What have you read recently?
I don't read a ton of business or marketing books. Reading is where I go to get away. Recently I re-read Game of Thrones.
Has your company or have you personally been involved in some charitable effort that you are proud of?
Right now we are running a store for Cluster Headache Awareness where we are selling shirts with all proceeds over costs being donated to cluster headache research. It is the most painful disorder known to man and no one knows about it. It's something that I suffer from myself so would love to see more medications both to prevent and abort these neurological attacks.
With climate change a real threat, what is your company doing about it?
We try to be as low impact as possible. We are using a Chem-Free parts washer, and have a filtration system on our washout booths. I would love to be doing more in reality but some of the systems are just too expensive to be a solution for us at this stage of our growth.
If you had an actor play you in a movie, who would it be?
No idea. I don't actually watch TV or movies.
What do you see on the horizon as trends in the industry?
I see more and more small businesses using places like amazon to order their merch. I see print shops downsizing overall with many leaving the industry. I see that in a short time the only ones we will be printing for is clothing lines and huge events where places like amazon don't make sense. This is primarily due to no current printers being large enough to compete with that type of platform and partially because there are too many little shops each trying to corner their portion of the market, rather than uniting to take the entire market.
What piece of advice would you like to share with someone new to the industry?
Go big or go home. This industry doesn't take much to get into but if you don't give it your all, if you don't re-invest, if you don't push every single day… you realize it doesn't take much for this industry to chew you up and spit you out.