Last month IK interviewed Mike Mossman, General Manager at Colour Evolution in Auckland, New Zealand…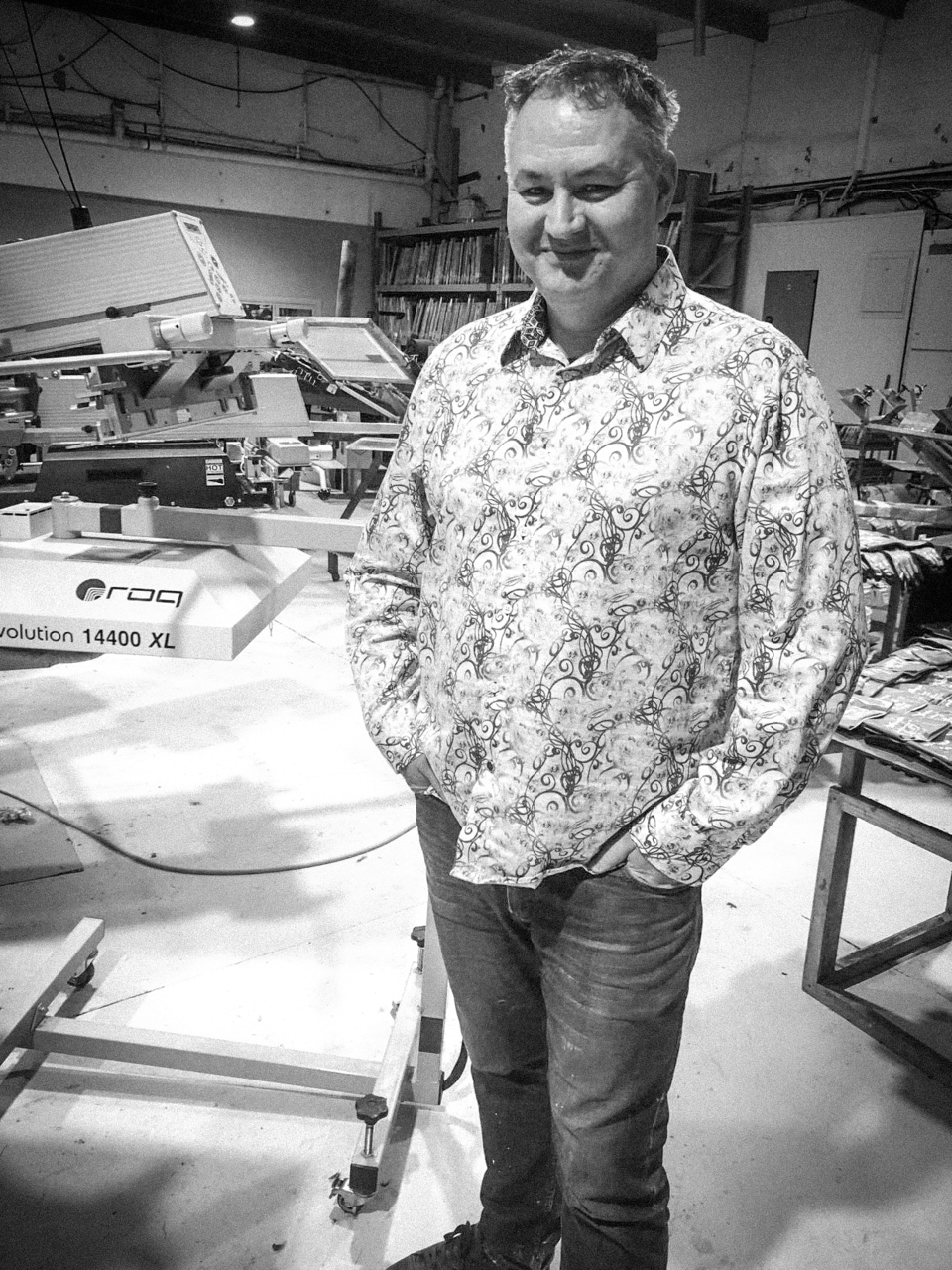 June 7, 2020
How long have you been involved with printing and/or garments and how long since you have been "in" the industry?
28 years in Clothing, the first three years more in knitting fabric and garment manufacturing, decoration production planning.
How did you get started in the industry?
I worked for a couple of clothing manufacturers for 3-4 years where I ran knitting machines, learned sewing and basic patternmaking, and worked around garment decoration.  I found screenprint fascinating, and later when a company went bust I helped with the liquidation and went into partnership and took over a screenprinting setup, grew it really fast, made every single mistake, and we were Liquidated after 4 years.  Then I "phoenixed" a new business and started again….
What is your current job title and what do you primarily do as your work?
I'm the General Manager at Colour Evolution in Auckland, New Zealand – population 5 million.
What is your history in the industry?
I've been printing for roughly 25 years and started immediately wheeling and dealing with liquidations and second-hand machinery which eventually led to new machinery and now I represent Roq, RapidTag, Stampinator, Permaboss Laser, Hooptech, MightyHoop, Coloreel among brands.  Some I sell in NZ and Australia, and others I can also sell in the US and Europe also.  20 years ago I started going up to the HK and Chinese Tradeshows and importing promotional products as well which fitted our customer base – being a contract decorator.  6 years ago out of frustration in outsourcing I bought and merged in an embroidery company, and soon after that added a Permaboss Textile laser.  So we are pretty full service.  We also have the usual vinyl, heat presses, etc.  So a very diverse business with multiple revenue streams.
In your time in the industry, what have you seen as the biggest change?
Leadtimes have gone from 4 to 6 weeks, to 4-6 days.  I started with Letraset books, a photocopier, an Agfa Repromaster, tracing paper and brushes and Rubylith, a light table and a scalpel – no computers.  Apparel was knitted, cut & sewn in-house.  The ink was thick and tough – it was easier to scrape the plastic pot through the mesh than some of the early white inks.  The TAS was clunky and all air with wooden pallets and you had to adjust the squeegee to the warping.  For us, in "isolation" at the bottom of the world, you had to learn by necessity.  There were no big associations, the cost of traveling overseas was prohibitive, and no youtube or Facebook or forums.  But everyone in the chain had better margins, therefore you would see sales reps more often who were the educators in the industry.  Other things are manners – and how people treat people with respect, honesty, trust, integrity, be it staff, or customers, or competitors.
The other thing when I started – all the suppliers and customers were within a 50-mile radius.  Now I run a business that has customers and suppliers across 50 countries.  We have sea freight on the water of Gazebos and flags going from China to Fiji, Airfreighted labels and badges and lanyards to us in NZ, embroidered badges into the USA and Canada, a big Roq NOW DTG + Dryer + Folding machine being installed by Roq.US,  then we have what we locally outsource like pens and cups and small run stuff, then our own decoration lines which can be up to 50,000 logos a week.  It is nothing to fly to Fespa, Itma, HK Gift fairs, Canton Fair, GFT, or ISS shows and likewise for decorators to be selling to a global market.
What is one thing you wish you knew when you were starting out in this industry/business?
I built the business on liquidations and cheap second-hand gear.  Also going bust early taught me some lessons, but gave me an aversion to risk and debt – which kept me to second-hand machinery. 6 years ago we started buying new equipment which was faster, fewer seconds, attracted better staff, easier to set-up and all of a sudden the decoration side of the business took off.  All decorators more or less sell time, so the more you can produce more income.  Looking at costs and trying to be cheap is a false economy that will hold you back.  I also went from Punch & Crunch and lowest price guarantees – to being expensive – dropping Gildan and going to AS Colour and Nike and premium brands that all carry more margin with better quality customers that are more recession-proof. 
Secondly, Admin – most people in the industry can print, but most of them have jobs slip through not invoiced, losing information and make mistakes, struggle with payments and wages, and tax.  They have no idea what their real costs are and what they should or could be charging, and their profits are as much about luck, as it is the quality of printing. 
From 40+ liquidations – the average invoice quantity of the business in the year prior to closing is 17 units. (The spread is only 15.4 to 19.7)  Plenty of businesses make great money in small runs in malls and some Embroidme type businesses – the thing is learning to sell small runs at high enough pricing to cover the cost of sale, courier, set-up, admin, etc.  Anybody can pull a squeegee, but the admin and tax and compliance and paying accounts and chasing debtors with the admin in the back-end will make or break any decorator.
"Do you have a song or better yet a Spotify or other playlist that you listen to when you really want to get going?"
Timmy Trumpet & Savage – Freaks
Share a story of a mistake you made that in the end, you learned from.
In decoration, always manage the customer – never let the customer manage you, and 9 times out of 10 they don't know what they want – they actually look to you to lead them in the right direction to solve their problem.  Manage them into something decent, and sell value and lifespan – stay out of the junk market as there are no profits or referrals or repeating customers in the bottom end of the market.  Being cheap will grow your problems, not your profits.  Especially with contract decoration there is a huge difference between "when do you want it" and when do you, at the latest, need it?"  Take the pressure off production and buy the longest lead time as rushes lead to mistakes and re-prints, and replacements coming in on urgent couriers, and repeat set-ups, and late deliveries then upset customers and fewer profits.  Manage their expectations early.  Always ask new clients who or where they're coming from, what their experiences have been, what problem they have that they want you to solve.  We are problem solvers.  Even if it's needed the same day, every problem can be solved, at a cost.
We solve customers' branding problems, staff re-engagement, customer engagement, loyalty and rewards programs, Gift With Purchase, Corporate Image with a uniform, PPE Compliance, what-ever – we solve problems – but the art is not to create problems.  The one problem I stay away from is reducing costs.  I will never be the cheapest.
Is there a print or a shirt or a product that you are particularly proud of?
Not one really.  Most of what goes through have love and effort and attention to detail with it, so there are too many worthy for a differing reason.  We solve minor miracles on a daily basis, so over the decades, there are too many to mention. 
Do you have a hobby or skill or interest or accomplishment that folks in the industry might not know about?
Sadly in an industry saturated with talented Designers and Musicians I don't have any artistic skills, but I do like good food and fine wine, so I love cooking a good roast organic leg of lamb or BBQ.  But I also have a story…  We have nearly 1,000 years in the garment industry.
My mum was a genealogist so this got rammed into me as a kid.  Our family holds Shirley Castle in Nottingham – the only family to still hold land given to them by William the Conqueror in the Doomsday book in 1086, and from there they have been synonymous with textiles and Nottingham Lacemakers, through to knitting and weaving. In 1590 or so William Lee Invented the knitting machine so his wife would have more time for nookie (he was a priest/clergyman), and the machine went through a number of changes for years, and the industrial revolution started, and the king of England wouldn't grant patents on machines putting English people out of jobs, so they went to France, and got turfed out of there to Germany where one got killed so they went back to England where they were granted patents conditional on smashing up all but two machines, and shifting to Australia which England was trying to populate, so they came out to Aussie, and then onto New Zealand.  So there has always been a link to textiles for about a thousand years….
What is a big breakthrough that you are your company has made?
The big breakthrough was my partner Kathrine taking over the business.  It doesn't matter how much you know and what you do if the back end isn't right.  I am not an administrator and that was always the handbrake holding me back.  Kathrine makes sure everyone is paid and tax put away and everything is quoted, the office is running, production is on top of the scheduling, wages are run, we have the systemization in place and contracts cover us.  I dread to think about how many jobs were printed that never got invoiced before she came onboard and sorted out my chaos.  This allowed us the cash flow to reinvest and grow.
What part of this industry do you wish you didn't have to deal with?
Staff management.  I am more an account manager and by nature I hate confrontation, so managing staff is the bit I hate the most.  Delegating is still hard for me as I want everything to my standard.  But that's our weak-point is pushing the staff harder.
What's the weirdest thing that happened to you in this industry?
What goes on tour stays on tour.  I love tradeshows and the craziest ones are usually in Asia.  Maybe worst was a late drinks session after work and a printer cleaned the ink off his shirt with Acetone then dried it off with a plastic welder…..
"Either what is your favorite garment to print on, or what is your favorite decoration technique on one of your garments?"
My favourite thing is embroidering Gang Patches.  I have them down to an artform in the digitizing and making them.  Once again not cheap, I even Scotchguard them – I am yet to see better than what we output..  They can be up to $400 a back-set, and they are works of art.  A club may bring me their old files, and I sit and tweak and by the time they are perfected we may have spent 80 hours on them, and we charge accordingly, but you won't find better.  They can be 5-600,000 stitches for a full back and take 12 hours to make one set.  I even find them easier and more respectful than half the designers and promo people.
If money was no object, what you add to your business right now?
Our plan is a bit out now of course, but next machinery was looking to add Opek Knitting machines for Jacquard Beanies and scarves, Coloreel unit for Sublimating embroidery thread as it stitches, change out to Riley Hopkins 350 carousels for pallet interchangeability with our Roq, New Epson F3070 (I would rather the Roq NOW but our customer base couldn't make it work), Hottronix Dual Fusion Heatpress and the newly released Hat/Cap press, and a Vinyl Weeding hot-table, Brother BAS-342H Automated Badge Sewer and a Merrow Machine, and a Permaboss NGE-13 Embosser-DeBosser.  I have a spreadsheet with our wish-list and write it all into our business plan which goes out to 6 years.  Its all a little delayed for now.
What is your favorite t-shirt, however you want to define that?
Probably my All Blacks Rugby Jersey.
Do you have a project you want to start or goal in the industry?
Another 5-6 years then I want to sell out of the decoration side and just do consulting and sell machinery and software and help with production management systems for commercial decorators.  I would like to add more resources for employment HR and specialist Policy and Procedures manuals, SOP's, Health and Safety, Environmental policies, and work with shops more on their business planning and costing and marketing objectives.  I think there is a lack of planning in some shops, and people too hung up on price and not profitability.  There are shops going bust with 20, 40, 60 machines that have growth and size, and they are working two shifts but still going broke or continually struggling.  Why own multiple machines and shifts when a finely tuned shop with 10% the size has better efficiency and less stress and double the revenue of the machines, and the owners can go on holiday without everything falling apart.
Can you speak to having a mentor or hero or someone you admire either inside or outside the industry?
My key advice has come from accountants, Sean D Souza who runs Psychotactics and wrote "The Brain Audit" & "Dartboard Pricing" – which is all about the psychology of selling and quote conversions and the best investment I ever made in buying books.  The shops I look at is Culture Studio, Danny @ Denver Print House, Artem @ LogoUnltd, Brandon Lennert @ Inferno.  All for differing reasons.
What have you found inspirational lately?
In a world of carnage, I guess its people looking out for each other.  We did our lock-down here with Corona and now we are two weeks with no new cases and only one active case still in the country.  I like watching our industry come together where possible and pivot and innovate by necessity, and the human-ness in most cases.  A shout out to Ryan Moor who posted on Facebook relating to the Riots and Marches, and especially with regard to Garrett Kaule who was also my friend who passed away last week.
What have you read recently? Unfortunately, the news… And just when you keep thinking 2020 we had our elections here, USA elections, Brexit, Aussie Bushfires, a drought here hitting our farmers, Corona Virus, Hong Kong Riots, China encroaching on its neighbours, collapsing African economies, Trump, Murder Hornets, Police Brutality and riots, unemployment, stock crashes – 2020 is just a pretty shit year.
Has your company or you personally been involved in some charitable effort that you are proud of?
Over the years I would have discounted to cost price or not invoiced $1million for NGO's and charities and non-profits, and unions.  That is more money than profit pulled out of the business, but it's given me volume and I've never been in this for the Ferrari, just a comfortable ethical living.
With climate change a real threat, what is your company doing about it?
We were looking in February to put Solar on the roof to go to 80% renewable energy, and that is shelved as its a fair loan for 6-7 years before its cash-positive, so in the interim, we have found a power company that over-specs residential solar and can sell us their surplus solar.  Then its a case of recycling, reduce waste, use out all the ink or threads, recycle embroidery backings where possible, etc.  Drink local craft beers and organic wines!
If you had an actor play you in a movie, who would it be?
Liam Neeson
What do you see on the horizon as trends in the industry?
There is plenty happening in DTG, but as far as I am concerned washability is an issue.  A lot has been happening with Digital Screen Transfers also, but they don't last either – it's hard to beat a direct screen print.  There is strength in being a one-stop-shop – but for every decoration you add, it increases the complexity of the business a lot.  That said production is what it is, but it all comes down to sales – for that you have to be a sales led or design-led company.  There are plenty of opportunities around.  Think disruption as it works best in difficult times. Think about mergers – why have 5 shops fighting over your town, when you could all join together, get rid of the duplicates, and invest in better machinery, better showrooms, better back end software.  Why own 100% of a business worth $100k, and making a 30k wage a year and struggling when you could own 20% of a business worth $1m and paying the wage, working to your strengths and working less, but generating a profit with less stress.  Too many in-efficient shops trying to compete by pricing themselves into oblivion.
What piece of advice would you like to share with someone new to the industry?
Similar to the Quality-Service-Price triangle, this industry has another triangle: that is SALES – PRODUCTION – DESIGN.  A SALES company is more like a promo company or print broker, has a great website, reps, showroom, potentially multiple showrooms.  A design-led company is going to be more like a clothing label, or merchandise range specialist, sportswear or tourist-wear type company and obviously a PRODUCTION company is going to be more like a contract decorator Pick one, until you do your first $million in sales, at 1$m you can pick two and be good at them, but to be great at all three you need to be $5m plus.  Obviously you have to do a bit of the other parts where necessary, but work to your strengths and you will grow faster.  Don't think you have to be all things to all people and learn to delegate and out-source.  Learn to export your problems and put a margin on that, work to your strengths.
Is there anything else you would like to share?
"There is hardly anything in the world that some man cannot make a little worse and sell a little cheaper, and the people who consider price alone are that man's lawful prey.
It's unwise to pay too much, but it's worse to pay too little.
When you pay too much, you lose a little money – that is all.
When you pay too little, you sometimes lose everything, because the thing you bought was incapable of doing the thing it was bought to do.
The common law of business balance prohibits paying a little and getting a lot – it can't be done.
If you deal with the lowest bidder, it is well to add something for the risk you run, and if you do that you will have enough money to pay for something better.
Quality is never an accident.  It is always the result of intelligent effort.
There must be the will to produce a superior thing.
Value is about delivering quality on time for a fair price."
– John Ruskin 1819-1900.