Print Hustlers 2021, produced by Printavo and MADE Lab, was held last weekend (October 22-23) at the Ace Hotel in Chicago.  Speakers from music, sports, and food and beverage backgrounds, as well as some exceptional folks from our own industry, spoke about creativity, design, sales, manufacturing and business, sharing knowledge about the mindsets and approaches that have been the foundation of both their personal and their companies' success.
Rooms were packed for every session with decorators eager to learn how to up their entrepreneurial game. And speakers from every kind of background, from skate punk to Ivy League, in all kinds of businesses delivered what they have learned along their journeys to success. What was clear is that there is no one way to be successful. The unifying theme among the sessions was a combination of passion and focus.
There was fun to be had as well, of course. Printing United Alliance sponsored a happy hour out on the 5th floor terrace on Friday night that was followed by another happy hour at a near-by pizza joint, PB&J. After sessions concluded on Saturday many attendees joined the river boat architecture tour of Chicago, which was beautiful and educational, as well as a bit chilly.
Many punks of a certain age were thrilled to hear legendary recording engineer and musician Steve Albini talk about his connection to music and print making, both on shirts and paper. He told us to embrace the fact that  we're"all fucking weirdos" , which is the honest and punk version of "be authentic".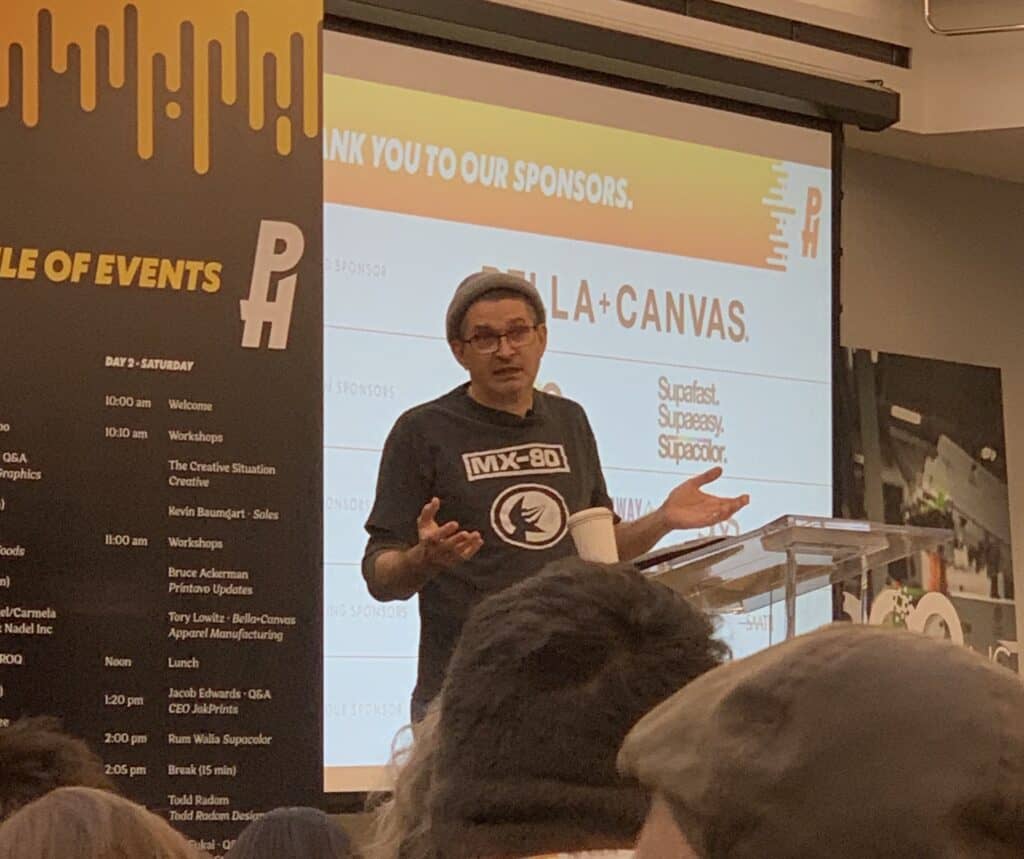 Printavo Founder Bruce Ackerman ran a Q&A session with Chris Blakeslee, CEO of Bella+Canvas. Want to know when medium black shirts (as well as others) will be robustly back in stock? You should have been there to find out.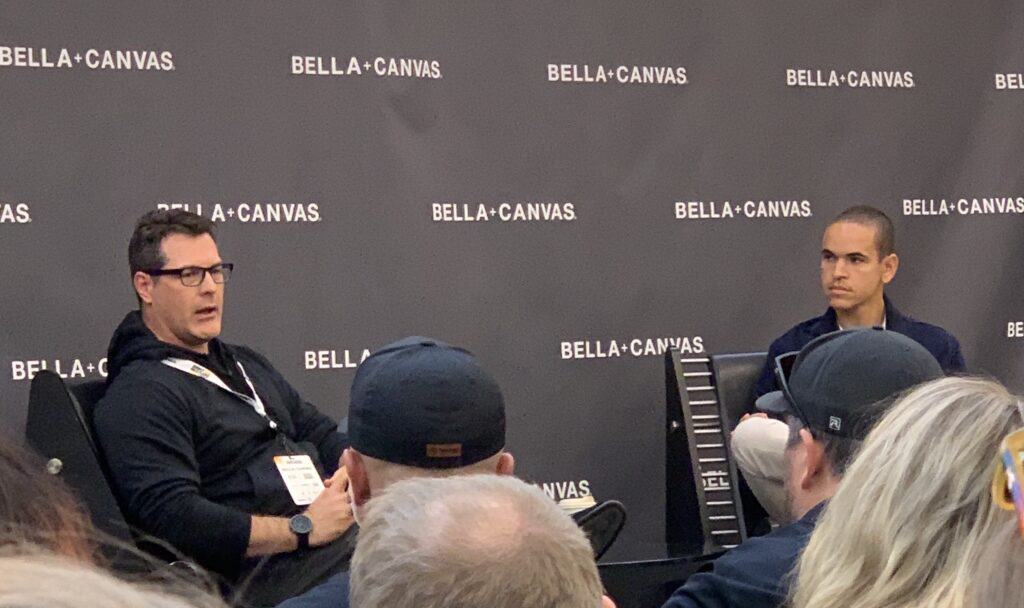 Carmela Wagner and Debbie Abergel are experienced sales professionals with Jack Nadel International, a juggernaut in the branded and promotional products industry. They talked about how to build a company culture of high-performing sales professionals through mentoring and investing time in new employees. They also spoke about how they approach partnerships with vendors and their view of the keys to success- transparency, clear communication and recognizing each employees and partner's core strengths.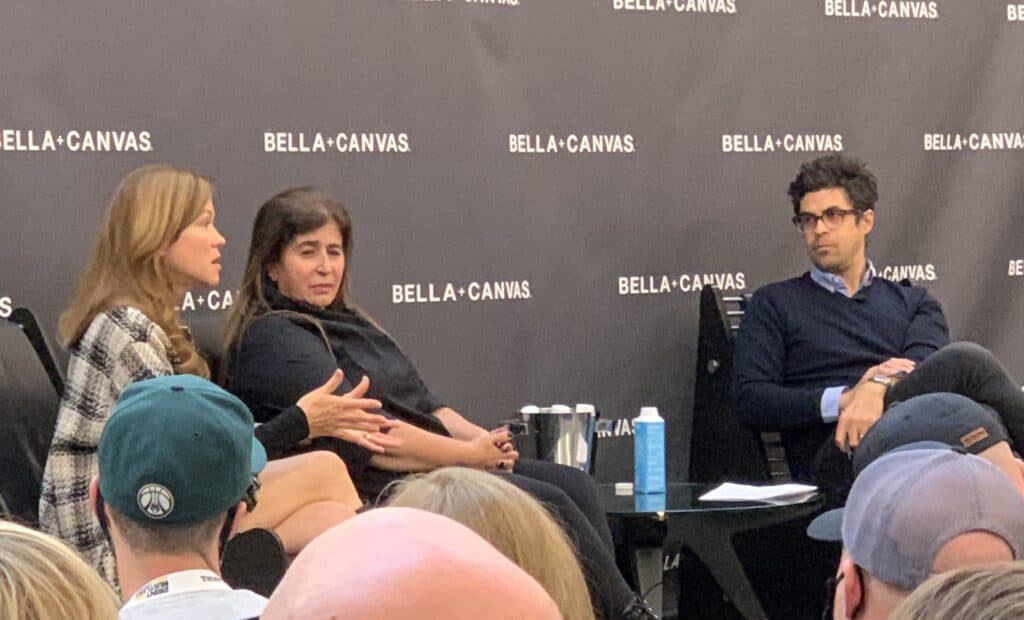 Have you ever wondered who creates professional sports graphics? Todd Radom does. Todd shared his story and examples of his amazing design work. He has created Super Bowl logos and worked with Ice Cube  (yeah you know, the rapper, actor, filmmaker) to create all the graphics for the BIG3 basketball league.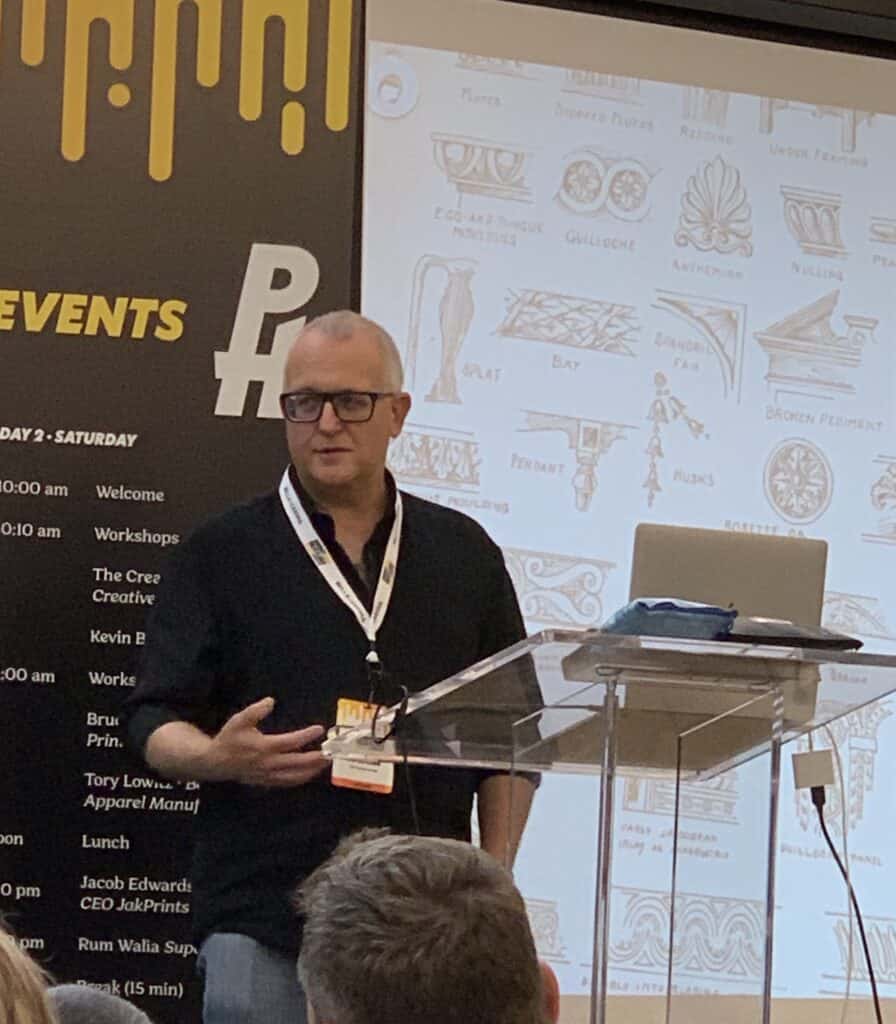 Jakprints founder Jacob Edwards walked us through how he went from 9th grade dropout to touring punk musician who needed shirts for his band to founding and running a multi-division, 300+-employee printing company that offers custom printing for everyone, on apparel, paper and other media. That's the boring synopsis of his story. He's much funnier. And he did this while clenching a Bruce Ackerman bobblehead doll in his fist the entire time.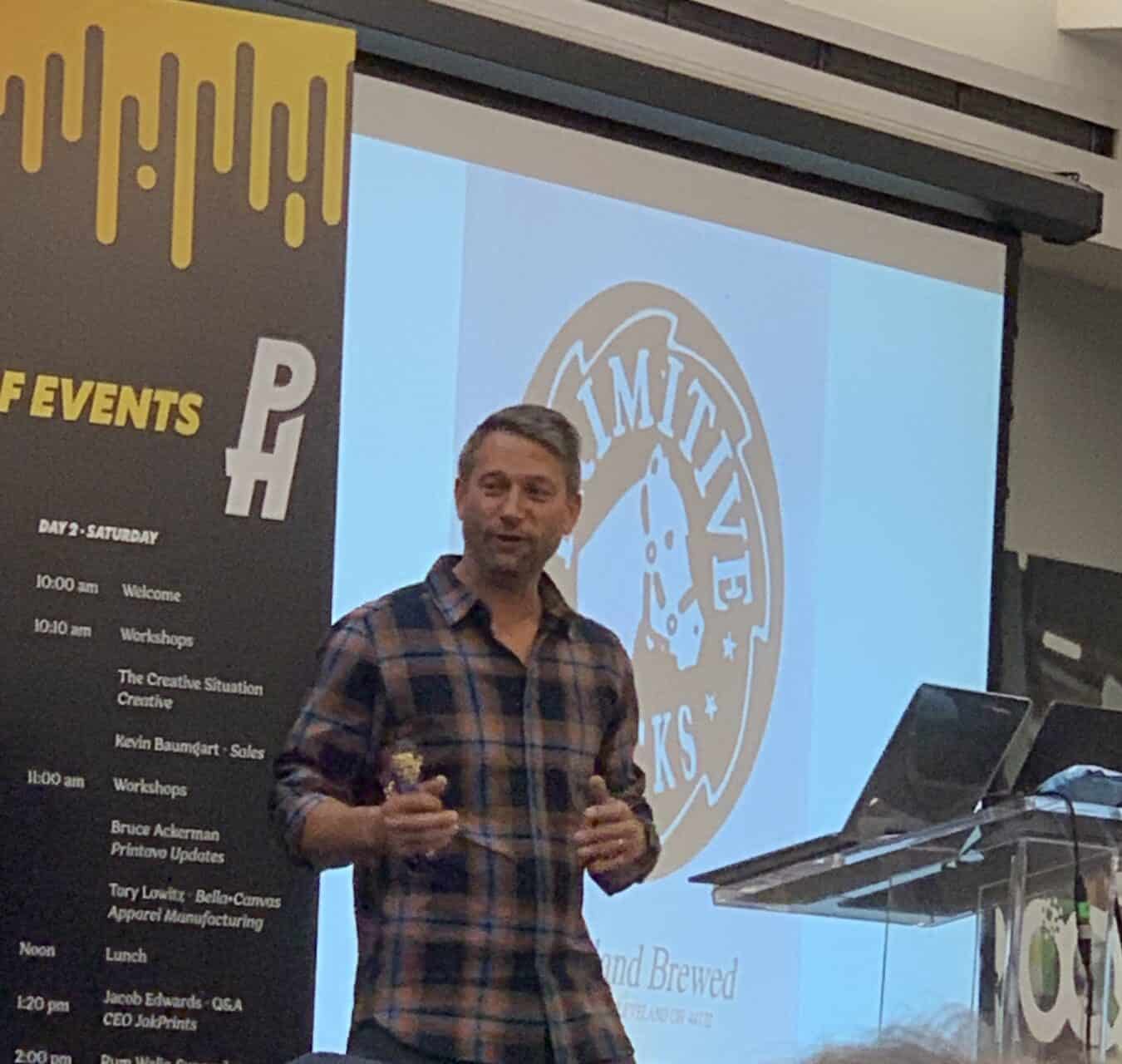 Branding and design for Print Hustlers 2021 was done by The Creative Situation. The crew, hailing from the Panther City as you might have guessed, showed up for the happy hour in these rad gold baseball jackets.