UPS and the Teamsters union representing 340,000 workers are in negotiations for a new contract. The Teamsters are demanding some better working conditions and some higher pay. The current contract expires July 31, 2023 and the union members have already overwhelmingly voted to authorize the Teamster leaders to call a strike if necessary.
Our garment industry would be profoundly affected by this, as on every level of the industry goods are moved by UPS, from supplies for the mills, mills to the distributors, distributors to decorators and decorators to customers. To better understand the enormity of the problem, SanMar is in the top 100 customers of UPS by volume and the other distributors must also be of significant size.
Here are comments by the big three distributors SanMar, AlphaBroder and S&S:
Alphabroder comments as of today: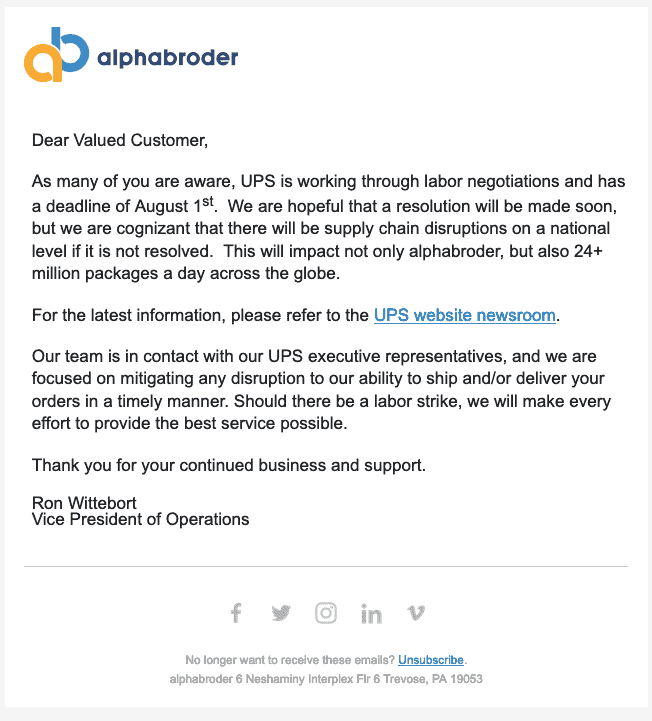 SanMar comment on the possible strike.
S&S Activewear statement on the potential strike.
The only issue settled so far is that UPS agreed to put heat mitigating items in their trucks, like heat shields and fans and starting in 2024 to add AC. Great that they settled but that seems like a no-brainer when temperatures can reach over 120 degrees F. or more in the trucks and their are examples of heat stroke and even possible deaths attributed to heat and the drivers:
A UPS driver collapsing from heat.
UPS Driver possibly died from the heat in his truck in Pasadena.
and another driver in Texas also possibly from heat.
Here are the statements by the union and by the company, the company information seems particularly biased and keep in mind their business is growing both in size and profitability, with profits last year of 13 Billion Dollars, and that is correct Billion with a "B."
Teamsters comments on the negotiations.
UPS website information, keep in mind highly biased toward the company side.
Where does that leave the decorators?  Hoping that cooler heads prevail (pun intended there…) and that the issues are settled and a contract is made going forward. My regular UPS driver is an awesome dude and one of my best friends is a retired UPS driver (with replacement knees) . Knowing what I know about how hard they work I have to say that I side wholeheartedly with the Teamsters on this one. I also know from personal connections with workers how hard folks work inside the UPS facilities and they deserve living wages and representation as well. As for the company with $13Billion, that's hard to feel lots of sympathy for.
Barring a settlement, order things way ahead of time, hope the postal service can gear up quickly, have accounts with trucking companies and be prepared to deliver things yourselves.